This site is NOT affiliated with the Philadelphia Flyers or the National Hockey League. The views and opinions of this site are strictly ours and no one else's. Content of this site is checked for accuracy, but not flawless. Please double check any information regarding schedules, etc. Please report any inaccuracies to webmaster@flyers.com.​

Shop for great Flyers gifts for your home or office thru the link below: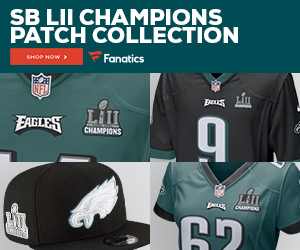 Flyers blow 4 goal lead, but Konecny's OT goal saves the day

 Nolan Patrick had a goal and 2 assist against the Red Wings on Saturday.  He finished +3 with 2 blocked shots and 2 hits.

Does the recent winning streak give you hope the Flyers will make the playoffs?

We'll go as far as Carter Hart can take us 34.48% (10 votes)

Yes, our team of young stars is maturing finally 24.14% (7 votes)

Yes! But I don't expect much success past getting into the playoffs 17.24% (5 votes)

No, flash in the pan we won't make it 13.79% (4 votes)

Still too much talent above us, need a trade 10.34% (3 votes)

Total Votes: 29​

The Flyers sure look real.  A goaltender can make you look better than you are.

Total Votes: 11

      Shayne Gostisbehere had a goal and two assist against the Red Wings.

 Flyers 6 Red Wings 5 (OT)

  Travis Konecny's second goal of the game 1:27 into the extra period gave the Flyers the win.  

        The Red Wings scored 4 unanswered goals, including one with 7 seconds to go in the third period to force overtime.  Travis Konecny saved the Flyers with a wrap around the net goal for his second of the game.  The Flyers also got goals from Shayne Gostisbehere, Scott Laughton, Nolan Patrick and Jake Voracek.

      Carter Hart stopped 33 shots.

      Philippe Myers was still held out of the game, awaiting his first NHL start.  Mikhail Vorobyev.  Cam Talbot was scratched and is in transit to join the Flyers, but will most likely not play tomorrow in Detroit either.

       The win got the Flyers to within 6 points of the Penguins (playoff spot) who lost to the Flames in Pittsburgh on Saturday.  They have played the same amount of games.  They are also within 6 points of the Blue Jackets who play Saturday night, but the Blue Jackets have played 2 less games.